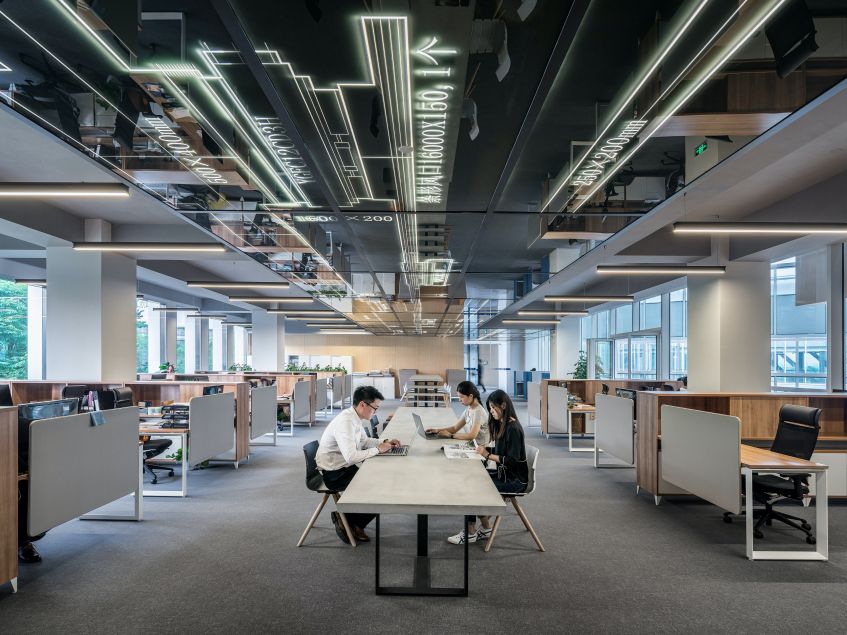 Published the
August 31, 2022
The development of new premises and its process
Project plan and management
Even before signing the offer, you want to have met an interior designer or architect. These two professions are complementary but it is also possible to work only with an architect or a designer separately depending on the nature of the work to be performed. The interior designer will take care of the planning and design of all interior spaces in your room, but cannot seal plans for building permits like the architect. However, he is able to produce all plans and specifications for the interior work to be carried out if an architect is not required in the project by law. As for the architect, he can accomplish the same work as the designer if he is hired alone, but he can also only take care of bringing up to standard the plans that the designer will have drawn beforehand in collaboration with the designer.

He will then make the architectural construction plans for the permit, while the designer will take care of interior details such as cabinetry, lighting, finishes, etc. In an ideal world, collaboration between an architect and a designer is desirable in order to unite the strengths of each. It is essential to have good communication with the person chosen, because they must outline your needs in order to make your premises functional and aesthetic at the same time. The success of your business depends on this ability to transform this vision of your space into a reality. In the case of a rental, it is important to remember that the landlord most of the time has to approve your development work. There are certain timeframes associated with this approval. It is important to plan for it on schedule. If you want to talk about the latest trends in office or commercial space, the KW commercial team will be happy to keep you informed of new market developments.
Development costs
To properly predict fit-out costs, you need to understand all the different aspects that will be affected when renovating your offices. Here is a list of some of the jobs that will incur costs:

Division
To divide your new premises, you will need an interior systems contractor. The costs of the walls will be determined by several variables such as their height (slab to slab, slab to suspended ceiling, low wall, etc.), their thickness (a thicker and better insulated wall for efficient acoustics) and other particularities such as inserts. glazed sections. It is important to understand that the interior system contractor does not necessarily do the plastering which is another shift. You will need a plastering contractor for the pre-paint finish.

Building mechanics
Now that you've divided your offices, it's important to divide your HVAC system and sprinklers. Often it is forgotten that new divisions change the dynamic for the HVAC system which must be able to serve each office. The sprinklers must be repositioned to comply with the building code.

Electricity
A good position of the electrical outlets is essential for the synergy of your space, socket on the wall for televisions, access to charging points in the common air, specific socket for the printer. We often forget the importance of proper planning of electrical outlets in the functionality and aesthetics of a space. Visually, a room where all the wiring is judiciously concealed is more refined and it is more pleasant to work there!

Painting
A good designer uses colors of paint to energize your spaces. It is possible to transform a space simply by creating zones or accents using different colors suited to the concept. Without being expensive, this option allows you to revitalize a space that was already developed.

Floor Changing
The floor covering is another relatively affordable option for revitalizing a room. There are all kinds of options (carpet, vinyl, polished concrete) and the costs remain relatively attractive to transform the appearance of already furnished premises. It is also possible to add acoustic properties to a room by adding carpet for example.

Furnishing
Finally, it is important to keep a budget for furniture. It is an integral part of your rental spaces and carefully chosen furniture can increase productivity and create a good atmosphere at work. Several office furniture companies are based in Quebec and are very affordable. Promoting local can be interesting and practical, as it's easy to change or add new furniture as the needs of the business change when it's bought here.

Telecommunications and security system
A good internet connection, a secure and efficient Wi-Fi system, a magnetic card system to manage entrances and exits. Here is a list of things to remember.

Here are some tips to remember:
There are also general contractors who offer full support of your project from plans to delivery. This solution can be interesting for a company that does not have the time to invest for the supervision of the project. The owner of the building in an office or commercial rental situation may give you an allowance for your accommodations. The KW commercial team is able to assist you in negotiating this allowance. There are companies that do furniture leases. They spread the purchase of your furniture over several months in equal payment for an amount of money in interest. A solution that can help you amortize your development costs.

Written by Christophe Robidas in partnership with Karine Touzel from www.ateliertouzel.com
source:https://www.kwcmontreal.com/en/blog/kw-commercial/